Assoc. Prof. Patricija Mozetič, PhD
print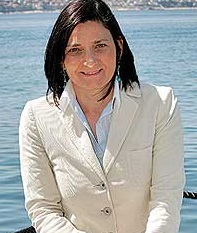 Marine Biology Station, National Institute of Biology of Slovenia

E-mail: patricija.mozetic@nib.si
Web page: https://www.nib.si/mbp/en/cv/patricija-mozetic
Assoc. prof. Mozetič fields of expertise are phytoplankton ecology and physiology of coastal seas, including abundance, taxonomic composition, biomass and photosynthetic properties of phytoplankton and primary production measurements, study of harmful algal blooms, and eutrophication of coastal sea due to land-based pressures. She also analyses phytoplankton long-term series and relates changes in phytoplankton dynamics to natural fluctuations and changing climate. In 2016, she was appointed head of the research program "Coastal Sea Research" and chairperson of the National Committee of the IOC-UNESCO. She is involved in the implementation of European legislation in the field of water protection for the assessment of ecological and environmental status of the sea.
Invited talk title
Ecological time-series as a tool for detection of changes in plankton communities
Abstract
Important information on the functioning of marine pelagic ecosystems can be derived from investigation of long-term planktonic studies that can encompass a period of up to several decades. Such studies with a historical perspective in time and space are primarily utilized to distinguish non-systematic natural variability from trends or shifts in the ecosystem that have often been related to eutrophication or anthropogenic disturbances. The shallow and land-locked northern Adriatic basin has undergone several changes at different trophic levels over the last decades, of which the most recent and basin-wide is the negative trend in concentrations of chlorophyll a.
Education
Ph.D. – University of Ljubljana, Biotechnical Faculty, Slovenia, 1997. Dissertation title: The response of neritic phytoplankton to nutrient inputs in natural and controlled conditions.
M.Sc. – University of Zagreb, Natural History Faculty, Croatia, 1993.
B.Sc. – University of Ljubljana, Biotechnical Faculty, Slovenia, 1989.
Adjunct appointments
University of Primorska, Faculty of Mathematics, Natural Sciences and Information Technologies, Department of Biodiversity, Slovenia
Classes taught
Marine ecology
Marine botany
Aquatic ecosystems
Selected references
MOZETIČ, Patricija, CANGINI, Monica, FRANCÉ, Janja, BASTIANINI, Mauro, BERNARDI AUBRY, Fabrizio, BUŽANČIĆ, Mia, CABRINI, Marina, CERINO, Federica, ČALIĆ, Marijeta, D'ADAMO, Raffaele et al. Phytoplankton diversity in Adriatic ports: Lessons from the port baseline survey for the management of harmful algal species. Marine Pollution Bulletin, In Press. https://doi.org/10.1016/j.marpolbul.2017.12.029
MCDONALD, Karlie S., TURK, Valentina, MOZETIČ, Patricija, TINTA, Tinkara, MALFATTI, Francesca, HANNAH, David M., KRAUSE, Stefan. Integrated network models for predicting ecological thresholds: Microbial e carbon interactions in coastal marine systems. Environmental Modelling & Software, ISSN 1364-8152. [Print ed.], 2017, vol. 91, pp. 156-167.
ESTRADA, Marta, DELGADO, Maximino, BLASCO, Dolores, LATASA, Mikel, CABELLO, Ana Maria, BENITEZ-BARRIOS, Verónica, FRAILE-NUEZ, Eugenio, MOZETIČ, Patricija, VIDAL, Monteserrat. Phytoplankton across Tropical and Subtropical Regions of the Atlantic, Indian and Pacific oceans. PloS one, ISSN 1932-6203, 2016, vol. 11, iss. 3, pp. 1-29.
LUČIĆ, Davor, MOZETIČ, Patricija, FRANCÉ, Janja, LUČIĆ, Petra, LIPEJ, Lovrenc. Additional record of the non-indigenous copepod Pseudodiaptomus marinus (Sato, 1913) in the Adriatic Sea. Acta Adriatica, ISSN 0001-5113, 2015, vol. 56, no. 2, pp. 275-282.
TINTA, Tinkara, VOJVODA, Jana, MOZETIČ, Patricija, TALABER, Iva, VODOPIVEC, Martin, MALFATTI, Francesca, TURK, Valentina. Bacterial community shift is induced by dynamic environmental parameters in a changing coastal ecosystem (northern Adriatic, northeastern Mediterranean Sea) - a 2-year time-series study. Environmental microbiology, ISSN 1462-2912. [Print ed.], 2015, vol. 17, no. 10, pp. 3581-3596.
TALABER, Iva, FRANCÉ, Janja, MOZETIČ, Patricija. How phytoplankton physiology and community structure adjust to physical forcing in a coastal ecosystem (northern Adriatic Sea). Phycologia, ISSN 0031-8884, 2014, vol. 53, iss. 1, pp. 74-85.
MOZETIČ, Patricija, FRANCÉ, Janja, KOGOVŠEK, Tjaša, TALABER, Iva, MALEJ, Alenka. Plankton trends and community changes in a coastal sea (northern Adriatic): bottom-up vs. top-down control in relation to environmental drivers. Estuarine, coastal and shelf science, ISSN 0272-7714, 2012, vol. 115, pp. 138-148.